2024 Aluminum Sheet
Thickness:20-200mm
Application: molds, rivets, truck wheels, and other various structural parts
Leave a message for quotation
2024 Aluminum Sheet, Aluminum Sheet Metal Description:
2024 aluminum sheets are considered "aircraft" alloys because of their strength to weight ratio. It also has excellent fatigue resistance. While 2024 has good machinability it only possesses fair corrosion resistance. In the annealed state, aluminum 2024 has good workability but is only fair to poor in tempers. Typical end uses are aircraft skins and cowls and truck and aircraft structures.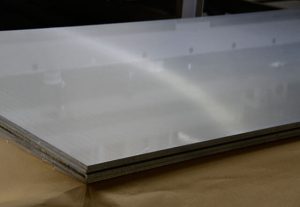 Strength of Mingtai Aluminum Production 2024 Aluminum Sheet
1

Low density, high specific modulus, good thermal conductivity and electrical conductivity, and good manufacturing process performance;

2

Mingtai Aluminum put into production "1+1" ultra-wide and ultra-thick aluminum plate production line. The 2024 aluminum plate produced in the test has good mechanical properties, high strength and easy processing, low density, and can be used as a light structural material;

3

The tensile strength of Mingtai 2024 alloy aluminum plate is 400-500MPa, and the alloy has better heat resistance and fatigue resistance

4

Our quality assurance department incorporates technical expertise, knowledge of industrial standards, and the latest testing equipment and devices to meet all requirements in order to ensure that the supply made to our clients meets exact specifications.
Technical Parameter of Mingtai 2024 Aluminum Sheet
| | |
| --- | --- |
| Alloy | 2024 |
| Temper | F、O、T3、T4、T6、T73、T351、H112 |
| Thickness(mm) | 20-200 |
| Width(mm) | 500-1250 |
| Length(mm) | 500-16000 |
Aluminum products of Mingtai 2024 Aluminum meet the export popular
2024 aluminum sheet of the packaging meets the export standard. Plastic film and brown paper interleave can be covered to customers' needs. wooden case or wooden pallet is adopted to protect products from damage during delivery.
Hot Products
Thickness: 0.1-500mm
Typical Application: heat sinks, radiators, power battery enclosures, automotive heat shields
Thickness: 0.1-500mm
Typical Application: precision machinery, automotive wheels, 3C products, mobile phone shells
Thickness: 0.1-500mm
Typical Application: Cans, Beverage/ Beer cans, Lamp cap material, Shutter material
Thickness: 0.1-500mm
Typical Application: 3C products, car doors, door handles, high-end architectural curtain wall panels, etc.
Henan Mingtai AL. Industrial Co.. Ltd.© All rights reserved

Privacy