2014 Aluminum Sheet
Thickness:20-200mm
Application: Mold, High strength structural parts, Thick plate, Heavy forging, Extrusion materials, Truck hub, etc.
Leave a message for quotation
2014 Aluminium Sheets Manufacturers & Suppliers
2014 aluminum sheet is the second most popular of the 2000-series aluminum alloys, after 2024 aluminum alloy. It is commonly extruded and forged. The corrosion resistance of this alloy is particularly poor. To combat this, it is often clad with pure aluminum. If unclad 2014 aluminum is to be exposed to the elements, it should be painted as a corrosion protection measure.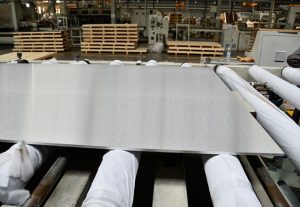 2014 aluminum plate has high strength and good cutting performance. 2014 aluminum plate is used in applications requiring high strength and hardness (including high temperature), such as: mold, high-strength machine parts, heavy forgings, slabs and extrusion Materials, wheels, truck frames, and suspension system parts.
Strength of Mingtai Aluminum Production 2014 Aluminum Sheet
1

Mingtai Aluminum put into operation the "1+1" ultra-wide and ultra-thick aluminum plate production line to make sure the 2014 aluminum produced with good mechanical properties, high strength, easy processing, and good performance;

2

professional China manufacturer's annual output can be up to 1.4 million tons;

3

Our quality assurance department incorporates technical expertise, knowledge of industrial standards, and the latest testing equipment and devices to meet all requirements in order to ensure that the supply made to our clients meets exact specifications.
Technical Parameter of Mingtai 2014 Aluminum Sheet
| | |
| --- | --- |
| Alloy | 2014 |
| Temper | F、O、T3、T4、T6、T73、T351、H112 |
| Thickness(mm) | 20-200 |
| Width(mm) | 500-1250 |
| Length(mm) | 500-16000 |
Aluminum products of Mingtai 2014 Aluminum meet the export popular
Plastic movie and brown paper can be protected at customers' need. Also timber case or timber pallet is adopted to shield products from harm for the duration of the delivery.

There are styles of packaging, which is eye to wall or eye to sky. Customers can choose either of them for their convenience.
Hot Products
Thickness: 0.1-500mm
Typical Application: Cans, Beverage/ Beer cans, Lamp cap material, Shutter material
Thickness: 0.1-500mm
Typical Application: PS plates, traffic signs, lamp housing and holder, battery busbar, etc.
Thickness: 0.1-500mm
Typical Application: precision machinery, automotive wheels, 3C products, mobile phone shells
Thickness: 20-200mm
Typical Application: molds, rivets, truck wheels, and other various structural parts
Henan Mingtai AL. Industrial Co.. Ltd.© All rights reserved

Privacy