5454 Aluminum Sheet
Thickness: 0.1-500mm
Application: pressure vessels, pipelines for marine facilities, automobile wheels, tanker cylinders.
Leave a message for quotation
China Aluminum Plate Factory 5454 Aluminum Sheet Price
5454 aluminum sheet is also an alloy with strong rust resistance, belonging to the 5 series Al-Mg alloy. Similarly, the 5454 aluminum sheet strength needs to be strengthened by cold working, but it is 20% higher than the moderate strength of the 5052 aluminum sheet. Also, 5454 aluminum properties are similar to 5154 aluminum. However, the corrosion resistance of the 5454 aluminum sheet is better than that of the 5154 aluminum. Therefore, we often see the 5454 aluminum sheet in the environment with high requirements for rust resistance, such as marine facilities pipelines, aluminum tank car bodies, automobile wheels, etc.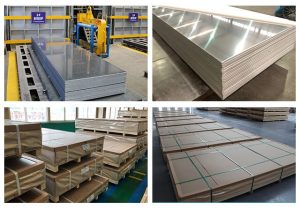 Mingtai Aluminum is one of the leading manufacturers and suppliers of 5454 aluminum sheets, supplying high-standard 5454 marine-grade aluminum sheets with superb quality, competitive price, and fast delivery. Special sizes can be customized according to the client's requests.
Strength of Mingtai Aluminum Production 5454 Aluminum Sheet
1

1,000 Tons/Month output, high production capability will shorten your wait time;

2

Mingtai Aluminum has strong strength, with 6 semi-continuous casting production lines, 10 continuous castings, and rolling production lines, and 44 other large-scale processing equipment, with an annual production capacity of 1.4 million tons;

3

The introduction of SMS six-roll cold rolling mill equipment can produce 2600mm ultra-wide 5454 aluminum sheets with flat shapes and neat trimming;

4

The "1+1" production line put into operation by Mingtai Aluminum provides a strong foundation for the large-scale production of 5454 aluminum plates and further ensures the good performance of 5454 aluminum plates;

5

Factory Direct Sale. All of the products are directly ex-factory prices, which greatly reduces the cost of intermediate circulation, so the price is much more advantageous in the market
Technical Parameter of Mingtai 5454 Aluminum Sheet
Alloy

5454

Temper

F,O,H12,H14,H16 H18,H19,H22,H24,

H26,H28,H111,H112,H114

Thickness(mm)

0.1-500

Width(mm)

100-2650

Length(mm)

500-16000
5454 Aluminum Sheet Packing and Loading:
The aluminum plate is Seaworthy package to be protected from humidity
Avoid All Moisture Contamination. Heat#'s recorded on all bundles, Do not mix heats within bundles, Bundle individual sizes separately
We will put 2-3 mils medium tack clear or clear blue PVC on one side
Critical surface quality: No chatter, no Pitt marks, no weld, no stains accepted
Hot Products
Thickness: 0.1-500mm
Typical Application: automobile body panels, control panels, reinforcements, automobile fuel tanks, electrical enclosures
Thickness: 0.1-500mm
Typical Application: curtain wall panels, cooking utensils, instrument shells, architectural decorations.
Thickness: 0.5-500mm
Typical Application: Shipbuilding, Pressure Vessels and General maritime fabricated products, LNG storage tank, flange material, etc.
Thickness: 0.1-500mm
Typical Application: architecture, general sheet metal work, small boats